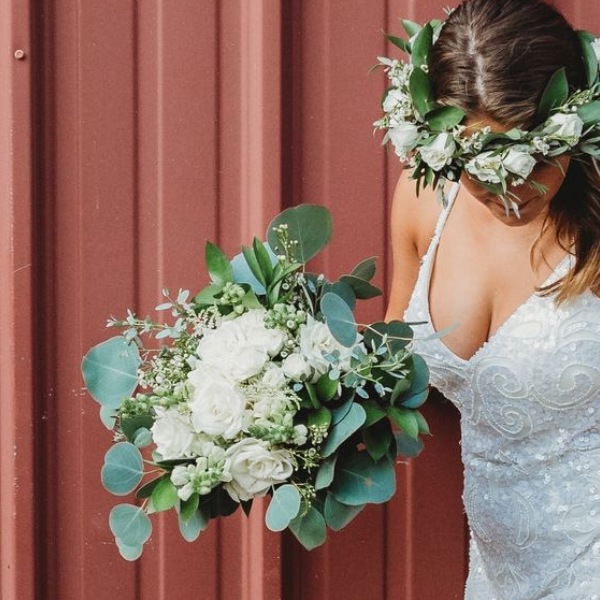 Here's a little nugget of info for your Wedding Day Flowers…. 
Hello Friend!
So, your big day is coming and there are lots of decisions to be made! One thing I can help you with is how to pick your flowers! Think about what style of the flowers you like, budget for your flowers, where are you placing your flowers and the size your bridal party.
 Style is a big deal! 
This is your color theme, shape of your bouquet, and design of the flowers. Start looking for inspiration in magazines, on the internet, and of course Pinterest. Kendall Farms has some great inspiration boards to help you find your signature style.
Remember that focal flowers are important, but fillers and greenery are a great way to make a statement. You can still have an impact with just a simple green and white color scheme! This can also help keep the budget-friendly. You can also think outside the box and use unique florals like protea and wax flower!
Next, start thinking about what types of flowers are in season during your wedding.  
It is so much easier to plan your budget and expectations if you stay with what's blooming in your wedding month. By staying with what's in season you can get the freshest flowers at the right price. Remember flowers are a perishable product and each one is uniquely made.  Sometimes what you see in a photo might look different than in person. Be open to options and suggestions from the designer you are working with.  They are there to help you through the process.
Break down the sections of the wedding to know many bouquets and arrangements will be necessary. 
Do a count of the Bridal party, don't forget to include anyone that might be part of the ceremony! Next is the actual Ceremony Site!  What do you want to enhance with flowers? This is the question you need to ask yourself. Most brides have a vision of where they will be saying their "I do's". Flowers play a major role in the ceremony. They define the space and make for a great backdrop to all the photos. Think about the whole space, the aisle, the sign in table, gift cart and if there is any other signs or tables that need extra flowers or garland!
Finally, it's party time! 
I like to see a layout of the table set up and the size of the room to help determine where you want to enhance the room with flowers. This is where the night is going to be spent so make it special!
Centerpieces, Sweetheart table, the cake, the bar, and the seating chart are just the beginning. One thing that I like to share with the bride is to try and reuse any of the ceremony flowers for the reception. No reason to let all those pretties go to waste! Check out Kendall Farms to see some amazing wedding floral packages. I designed them with you, the bride in mind!
Congrats on your Wedding Day!
XOXO,
Danielle